Every business owner and manager needs a wide range of online business tools with powerful features to rely on their services.
'Cause everyone knows that one manager cannot handle each process as smoothly as digital products can.
Perhaps, to some extent. But counting on a manager to do the work of helpful tools, such as the products of Google Workspace, would be pointless at some point.
Thus, you need a suite of tools to get the job done.
So here are THE high-tech tools that will help you and your workflow along the road.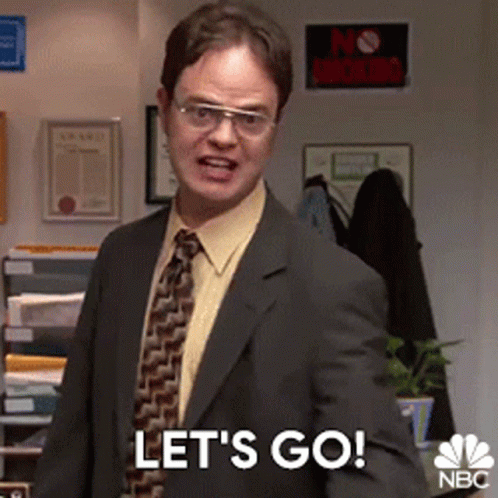 10 Best Online Business Tools Every Founder Needs in 2022
I will provide you with a handful of online tools with use cases to take your business to the NEXT LEVEL.
So, hang on tight.
1- monday.com – to manage all aspects of your business
monday.com is a Work OS that offers you a LOT of fruitful resources to improve your workflow; this one-of-a-kind tool manages to fit into your description and act according to your needs flawlessly.
Most of the time, I use it as a project management tool; however, I have many friends that use it for sales CRM, HR management, and task management. In other words, this tool helps you advance in business operations regardless of the type of operation.
Offering an open platform for all kinds of teams to work on, monday.com has tons of advanced features that are worth mentioning BUT let me list my favorites among these features:
enabling @mentions as swiftly as a messaging app
all kinds of dashboard, planning, and tracking—such as activity, applicant, and communication
enabling deadline management, thanks to features like alerts/notifications and time tracking
bug tracking alongside bug/issue capture
many useful business collaboration tools
plenty of customization options, such as custom fields, custom workflows, and custom branding
from task creation to database creation, offering space for creativity
allowing advanced user management, document management, and expense management through unlimited boards, including private boards and message boards
offering a wide range of pricing plans for businesses of all sizes
Besides the features I have just mentioned above, this award-winning platform excels at customer relationship management, too. How do I know? Because I got to use it for that case as well. To be honest, I have used monday.com for many things. Now, let me tell you what you can achieve by using monday.com as your CRM:
unify and record communication with your customers
track your sales pipeline, leads, and team performance with ease
gather all your new and existing data in one place to obtain a better view
create and use no-code automations in your workflow
build a customer database according to the related customer information
obtain beneficial insights to accelerate the sales process
improve your contact and lead management
customize the platform to suit your needs
⭐monday.com G2 Rating: 4.7 (out of 5,883 reviews)
monday.com Pricing
Free CRM plan: €0 (up to 2 seats)
Basic CRM plan: €10/user per month when billed annually
Standard CRM plan: €14/user per month when billed annually
Pro CRM plan: €24/user per month when billed annually
Enterprise plan: For this plan, please contact sales.
2- Freshteam – to find top talent and recruit effortlessly
Freshteam is a business tool that specializes in HR so that you can hire new employees and manage them with ease; Freshteam is a part of Freshworks, a software company that produces multiple solutions.
Reducing HR workload, Freshteam is a total need for managers that are looking for a HRMS since it streamlines your HR processes with robust features: applicant tracking system, time off, employee information system, onboarding and offboarding, mobile app, and HR reports.
Thus, you will be able to utilize from smart candidate sourcing, making it easy to keep track of your job openings and channels. Besides, you will save tons of time during the screening process as you will benefit from the talent pool where all the data regarding current and past candidates will be gathered.
With Freshteam as your smart HR software, in a few clicks you will be able to:
check, interview, and hire candidates from several job boards, referrals, social media, career sites, and vendors
create your own hiring team to help the process go smoothly with specific elements like application forms, interviews, and workflow
reach all the required information regarding candidates in only one place
automate your hiring tasks by enabling employee self-service
onboard your new employees virtually with checklists, reminders, and tasks
keep track of your employees time offs by creating and implementing time off policies
get updates anywhere and anytime by accessing the mobile app on-the-go
⭐Freshteam G2 Rating: 4.5 (out of 270 reviews)
Freshteam Pricing
Free plan: $0 (up to 50 employees)
Growth plan: $1.20/month per employee
Pro plan: $2.40/month per employee
Enterprise plan: $4.80/month per employee
*All the plans above include a 21-day-long free trial, making it possible to try them out before making a monthly purchase.
3- Hive – to create workflows that help teams progress swiftly
Hive is an agile project management tool that helps you create workflows to monitor what you have on your plate, especially projects.
One of Capterra's Emerging Favorites of 2022 under the category of Remote Work Software, Hive simplifies the way you work by offering a platform to manage your projects for teams, regardless of their size.
Putting importance on what its users want and say, Hive lets its users lead the way when it comes to new features. Thus, feature requests are very crucial for this tool; but, don't think that it doesn't have enough on its platform. Hive has features that aid users when it comes to: project management, time management, team collaboration, automations, and integrations.
With Hive as your project management tool, you can:
create unlimited tasks and projects, add action items and sub-tasks as you wish, and assign people and due dates to tasks
change the way you see projects with a click; for example, from Gantt to Kanban
use forms to collect information that you need, both from internal and external resources
generate to-do lists for your own and your remote or hybrid team to spend your time according to your workload
make use of time tracking to see productivity in general
automate recurring tasks in order to avoid repeating the same action manually by setting triggers
collaborate better in real-time with Hive's in-app messenger, whether it's messaging or getting feedback
prioritize and customize your tasks based on their urgency with ease
take a look at Hive Analytics to see statistics concerning projects
⭐Hive G2 Rating: 4.6 (out of 379 reviews)
Hive Pricing
Solo plan: $0
Teams plan: $12/month per user when billed annually
Enterprise plan: For this plan, please contact sales.
*All the plans above include a 14-day-long free trial, making it possible to try them out before committing to an annual purchase.
4- Juphy – to run your social media customer service without any limits
Juphy is a social media management tool that offers a service to ensure customer engagement across all communication platforms.
There are two use cases of Juphy: social media customer service and social media engagement, both of which carry an universal role throughout the customer acquisition process. Especially, in today's world where customers and users (especially potential customers) freely express their thoughts through social media posts.
Thus, Juphy helps users maintain a thorough support channel that is able to keep track of each response related to your business by providing them with an unified inbox that gathers all responses from sites of your choice. As of 2022, Juphy has integrations with Facebook, Instagram, Twitter, Google My Business, YouTube, LinkedIn, WhatsApp, Twilio, App Store, and Google Play Store.
Aside from an unified inbox, Juphy has several agile features that are related to team collaboration, reports, automations, canned responses, white-label help desk, workspace, and social inbox—all in the name of helping you advance your customer service performance.
In short, you NO LONGER need to switch between platforms to check, manage, and reply to responses your business get. With Juphy, one platform rules them ALL.
⭐Juphy G2 Rating: 4.6 (out of 89 reviews)
Juphy Pricing
Starter plan: $20/month per user when billed annually
Growth plan: $36/month per user when billed annually
Enterprise plan: For this plan, please contact sales.
*All the plans above include a 7-day-long free trial with 30-day money-back guarantee, making it possible to try them out before committing to an annual purchase.
5- Help Scout – to improve your customer support completely
Help Scout is a help desk that improves customer communication by providing users with a platform that offers customer support.
When your customers need help, Help Scout helps you move faster by allowing you to work in a platform where several great features are located in. For example, it presents its users with a shared inbox, reporting abilities, knowledge base, live chat, messages, workflows, customer management, and integrations.
To deliver outstanding support while improving customer experience becomes child's play, thanks to the features that I have mentioned above. For instance, you can boost productivity and team collaboration with ease by making use of the shared inbox that gathers emails in a multi-channel communication channel for your team to respond; you might benefit from assignments, private notes, saved replies, and tagging your teammates within this process.
With Help Scout as your customer support software, you can:
increase team collaboration on tickets that your customers leave
build valuable relationships with your customers to boost customer loyalty
automate actions
create custom folders to make tracking of communication easier
send bulk replies with a single click
make use of collision detection, notifications, and advanced search and security
get reports to gain insight regarding conversations, chats, documents, emails, and company
take your data wherever you go with Help Scout's mobile application
create blog posts to answer frequently asked questions with ease on your own site or even on Google Docs
launch a help center with custom CSS to promote self-help
provide live chat support, and many more
⭐Help Scout G2 Rating: 4.4 (out of 358 reviews)
Help Scout Pricing
Standard plan: $20/month per user when billed annually ($25/month per user on monthly subscriptions)
Plus plan: $35/month per user when billed annually ($40/month per user on monthly subscriptions)
Company plan: $60/month per user when billed annually
*All the plans above include a 15-day-long free trial, making it possible to try them out before committing to an annual purchase.
6- Canva – to create stunning presentations, social media posts, and more
Canva is a graphic design tool that helps teams with graphics, presentations, social media posts, and more with the help of the templates it provides.
Without any design experience, you can create visual content, thanks to this easy-to-use platform. There are a few topics that worth mentioning when it comes to differentiating Canva from the other graphic design tools, such as inviting your team to collaborate in real-time, thousands of team templates to choose from, and content management in one place.
Enabling such things, Canva also supplies tons of powerful features:
unlimited content, including templates, images, fonts, and colors
branded templates for you to use again and again without having to create new templates
brand kits that you can use on any of your content to be consistent with your branding
comments and shares so that you can communicate with your team without changing platforms
integrations to boost productivity and collaboration
allow and deny access to your team according to the respective asset
content planner with insights to help you along the way
⭐Canva G2 Rating: 4.7 (out of 3,532 reviews)
Canva Pricing
Free plan: $0
Pro plan: $12.99/month per user
Teams plan: $36/month per user
*All plans above include a 30-day free trial, making it possible to try it out before committing to an annual purchase.
7- Slack – to communicate with all teams in a single place
Slack is a messaging program that helps internal communication with team members flow smoothly.
One of Capterra's Top Performers of 2022 under the category of Collaboration Software, Slack became a popular platform due to the intuitive UI and features it offers. For example, bringing your team together is really easy since it includes huddles, channels that you can add and remove people from depending on workline, and many more, like file sharing, and screen sharing.
Trusted by famous companies, such as Airbnb, NASA, Uber, Etsy, and The New York Times, Slack improves communication no matter the size of the team as a digital HQ with a high level of accessibility.
⭐Slack G2 Rating: 4.5 (out of 30,095 reviews)
Slack Pricing
Free plan: $0
Pro plan: $6.67/user per month when billed annually
Business+ plan: $12.50/user per month when billed annually
Enterprise Grid plan: For this plan, please contact sales.
8- Google Workspace – to run your business in a single space
Google Workspace is a collection of software that is developed in order to boost productivity by Google.
Including Google apps, such as Google Drive, Google Chat, and Google Sheets, Google Workspace offers a vast platform with a great performance with integrations for teams to derive value from. Knowing that these business tools are produced by Google, it makes it easier to set up data tracking with analytics services, such as Google Analytics.
In other words, Google Workspace offers users an all-in-one solution that makes connecting and collaborating with teammates, customers, suppliers, and partners possible so that you can easily manage all your tools and workflow in a single place.
⭐Google Workspace G2 Rating: 4.6 (out of 39,969 reviews)
Google Workspace Pricing
Business Starter plan: $6/month per user
Business Standard plan: $12/month per user
Business Plus plan: $18/month per user
Enterprise plan: For this plan, please contact sales.
9- Fiverr – to get top-notch professional services from freelancers
Fiverr is an online marketplace for business owners and team managers to find high-skilled freelancers around the world to work with.
It might sound odd at first, but believe me it is really crucial to find people whom you can trust with a subject that you do not excel at. THUS Fiverr brings freelancers together within a platform where you can commission them within budget in a few clicks.
For instance, let's say that your team needs to learn WordPress. Boom! There are online courses that you can purchase on Fiverr—of course, all given by credible people that you can put your trust into. Now, let's assume that you don't need an online course; you need someone to perform an action.
Landing page design ✅
Social media marketing ✅
Marketing strategy ✅
Creative writing ✅
Article to video ✅
HR consulting ✅
There is plenty more where that came from. Just unbelievable.
⭐Fiverr G2 Rating: 4.3 (out of 180 reviews)
10- UserGuiding – to onboard your customers effortlessly without any coding
UserGuiding is a no-code user onboarding tool that can support and enhance the entire customer experience.
Throughout the customer experience, all products and services need some explanatory guide. BUT imagine having an interactive guide instead of the written guides you see everywhere; that is what UserGuiding aims with step-by-step elements that introduce you to a new product.
With UserGuiding as your customer onboarding tool, you can:
prioritize and customize your tasks based on their urgency with ease
take a look at Hive Analytics to see statistics concerning projects
create a resource center to display all of your resources to enhance the customer journey
make use of the in-depth analytics tool to get beneficial insight regarding the performance of the features that customers use
gather valuable feedback by using NPS (Net Promoter Score) surveys
guide your customers effortlessly throughout the onboarding process with the help of onboarding checklists, in-app interactive guides, tooltips, hotspots, and self-help resource centers
set goals and track them with ease
customize the onboarding journey by adding emojis, videos, GIFs, and images that will complement your product's UI
segmentate each customer to guide them through a personalized onboarding journey that will leave a positive impact
perform all of the things I've mentioned above and even MORE in minutes
⭐UserGuiding G2 Rating: 4.7 (out of 105 reviews)
UserGuiding Pricing
Basic plan: $69/month when billed annually (up to 2,500 monthly active users)
Professional plan: $299/month when billed annually (up to 20,000 monthly active users)
Corporate plan: $499+/month when billed annually (custom monthly active users)
*The first two plans above include a 14-day free trial, making it possible to try it out before committing to an annual purchase. However, for the last plan, it would be the best to contact sales.
In Conclusion
As of 2022, the SaaS marketplace has grown BIGGER THAN EVER.
There are many useful business tools BUT this does NOT hide the fact that there are many that you SHOULD avoid.
This is the sole reason that I have provided you with a list of online business tools that you WILL need in the long run.
So, check them out because they might be the ones to help you achieve your goals faster.
Frequently Asked Questions
---
What are the different online tools used in business?
In business, there are several online tools that vary according to your needs. Some of them are related to project management, time management, inventory management, analytics, accounting, email marketing, social media management, customer relationship management, and marketing automation.
---
What online tools are used for managing a business?
Managing a business requires a lot of online high-tech tools, such as project management tools, email marketing tools, communication tools, graphic design tools, social media management, customer relationship management, market research and analytics tools, and finance and payment processing tools.
---
Which is better: monday.com or ClickUp?
monday.com is a better business tool than ClickUp, thanks to its robust features that serve to multiple use cases. As a Work OS, monday.com allows users to manage workflows of each and every unique team, regardless of the size; thus, it is possible to state that monday.com offers an open platform that you can change according to your needs in order to reach your team goals and business objectives.