Are you sick of losing potential customers because you cannot keep up with the latest news or simply forget to follow up? Have you ever felt like you're wasting time looking through files and paperwork to find that specific deal with a customer? Is it common for you to overlook specific problems for a long time because you simply don't have time to pay them the attention they deserve?
Well, it seems that you have a problem that can be solved via Sales Automation, my friend.
If you relate to these problems -or you know someone who does 🤫- today I'm here to show you an eye-opener opportunity that can change the way you do business for the better.
Let me show you what I mean.
What is Sales Automation?
Sales automation is the modernization through the mechanization of time-consuming and manually done sales tasks using software, AI, and other helpful digital tools. Its primary aim is to ease the regular processes of the sales manager. Sales automation benefits from software to minimize the manual tasks your sales team needs to complete; instead, it enables them to save time and effort and use them to focus better on closing sales and making more money for your company.
With the help of automation, you'll be able to improve sales productivity and efficiency – and achieve and offer better customer service and business performance as a result.
Let's look at how sales automation can help your sales processes and why exactly you should benefit from it.
Why should you automate your sales process?
There are several advantages of integrating sales automation into your sales process. Let's see the reasons why you might want to integrate sales automation.
Timing
Obviously, for anyone managing and organizing sales, and especially for sales leaders, timing is critical. If you choose to go old school -dealing with everything manually- with your sales tasks, there's a high possibility that you won't have enough time to accomplish every single thing you have in mind. If you do choose to automate your process, however, you'll be able to act quickly on the potential customers, get their attention to your services before some other competitor interferes while you're dealing with everything on your own.
Effectiveness
It shouldn't shock you that in a study conducted within a sales and marketing team, 88% of participants claimed that they could benefit from digital tools that helped them save time and work more efficiently.
This is highly likely to result from the fact that sales automation -under any circumstance- always makes sure that the most impactful action is taken and being applied accordingly.
What can your teams do with it?
Ah, where to begin.
Your team can analyze and measure transaction data to understand and examine how well your potential customer is engaging with your services before taking the next step and making a purchase, thus, enabling you to interfere at the right moment when they need information and help from you. This data can always be used to develop more effective sales strategies and methods. And this is all made possible with the help of automation tools.
Still, having second thoughts about the benefits of sales automation?
Let's take a look at some statistics.
1. In 2020, 61% of businesses utilizing automation claimed that they exceeded their revenue aims. (HubSpot)

2. Similarly, 44% of the sales team leaders who will accomplish and exceed the estimated revenue in 2021 already use competitive intelligence and sales data tools. (HubSpot)

3. "High Growth" businesses — those that have experienced extraordinarily high growth recently— are much more likely (26.2% vs. 16.6%) to have used a highly effective sales automation strategy. (Hinge Research)

4. "High Growth" companies are about 31% more likely to have integrated business software automation tools than "No Growth" firms. (Hinge Research)


Seems about right, huh? 👩🏽‍💻
Having said that, let's now try to understand the essential steps to automating the ideal sales process.
5 Steps to Automating the Sales Process
Customer prioritization
Not all customers are the same. It's only natural that people vary in what they need and want from a specific service/business or a product. This is why you should never treat each customer the same way, if you do, however, you'll be wasting a significant amount of time and effort that cannot be taken back.
Okay, now I can almost hear you say: "Hey, knowing which is which all the time is not so easy!" Yeah, you're right. Especially considering that you don't have the time and energy to personally nurture every client. So rather than manually checking in on customers to see if they're okay with buying from you, you can begin your sales automation process with a simple lead scoring system.
What does this mean?
The lead scoring system that I'm talking about will help you understand when it's time to interfere and connect with a customer on a personal level.
How so?
A lead scoring system places a certain weight on an individual in your business system based on their behaviors and actions. When this lead shows any indication of engagement – an interest in the content or an e-mail- they will instantly receive several points, making it easier for you to identify and track them.
Here's an example of this practice by ActiveCampaign.
With a similar approach, you can enable your sales team to identify which leads are the closest to buying and benefitting from your services. What you should do at this point is prioritize the leads with the highest scores -who have completed particular tasks and shown engagement at some point- and avoid wasting so much valuable time for those who seem to be less involved.
Don't forget to follow up.
When I say customer follow-up, the first thing that comes to mind is probably the e-mails. Yes, indeed, e-mail is a go-to form of communication, I assume for any sales professional out there. But is it always enough? Unfortunately, it's certain that in most cases, especially those when you have to manage and organize a bunch of conversations, it might get pretty messy. Therefore, your e-mail sales game might not be good enough.
This results from manually tracking and waiting to send a follow-up or check-in with prospective customers can create an enormous difficulty and make it almost impossible for you to stay organized. Not to mention it also creates more room for mistakes as well. What happens when you mistake one client for another and send the wrong message? Yup, you lose a sale.
Ugh, goosebumps.
However, through email automation – a CRM software could help at this point- you can insert follow-up messages and initial outreaches automatically. You can also set particular guidelines to give orders for the sequence to stop, change or continue – based on the results and responses you receive from the lead.
Don't get too comfy, tho.
Just take a few minutes to create relevant messages and a good fit for each individual's needs. Because you still need them to be personalized and unique. So as long as you don't go with a general template with the sales emails, you'll do great. Thank me later for that.
The though part – Organizing calls and meetings
Scheduling meetings and numerous calls have always been the most time-consuming practices a sales team should manage. What happens most of the time is you recommend a time and date, the client requests some other date, and by the time you both agree on a particular time, a week has gone by.
What does this cause?
Well, for starters, the more time passes, the more likely your customer is to get tired and lose interest in what you have to offer – or a competitor might even attract them while you're dealing with scheduling a meeting.
It sounds a bit harsh, but it's a possibility.
So, what can an automation solution do for you here?
Well, a scheduling tool can do a lot of things. First of all, it can eliminate the time-consuming process of getting a meeting or scheduling a call. Instead of that same old same old, you need to share a link to your calendar with a single click – or two max. The next thing you should do is, well, nothing. From there, leads and clients will select a date that fits their schedule.
What happens if you double-book accidentally or have clashing sales calls?
Well, that's unlikely since you'll be able to set restrictions on your calendar as well, keeping it thoroughly organized and easy to handle.
Automating the sales list
Closing deals successfully is a detailed and time-consuming process if you wish it to be solid and practical. And what makes it even more time-consuming is probably scrolling through the web to identify willing individuals or businesses who want to know more about what you have to offer. It's backbreaking work and most probably a waste of time and energy.
This is where you should consider automating your sales lead list. This way, you'll be able to provide your sales team with a high-quality pre-defined list of potential clients to reach out to.
With an automated lead list building tool, all you need to do is create certain criteria such as job title, industry, and location; what happens next is you're instantly provided with numerous individuals who match this criterion.
There are some fantastic tools out there that you can consider. LinkedIn Sales Navigator, for instance, is a powerful tool that gathers this information from various databases or social media platforms like LinkedIn.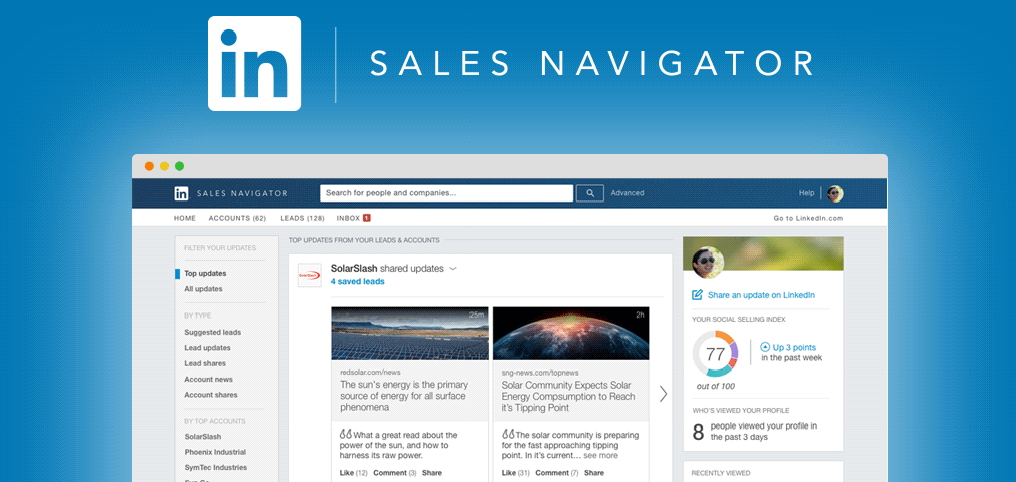 With the help of this tool, you can benefit from an advanced search to find people who fit your unique and customized lead criteria.
As a result, you can act relevantly and accordingly to your accurate and highly actionable data, quickly and almost effortlessly.
Lead enrichment – more knowledge won't hurt.
Now that you have your leads' name, job title, and location, it's almost over.
As important as this data is, it's still not completely enough to close a high-quality sale. If you want to get that signed contract via a solid connection between you and your prospects, you're going to need as much information on the lead, what they do specifically, their company, and their industry as possible. I mean it makes perfect sense, since, lead enrichment is all about discovering everything you possibly can about your leads in order to target your sales pitch to them properly. And, of course, in this case, knowledge is power.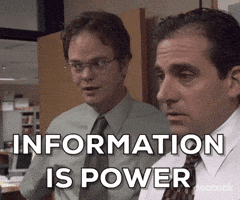 However, you must have realized by now that every tedious task on this list is highly time-consuming. And believe me when ı say that you could easily spend hours a day just finding out information and discovering actionable and more profound insights about your leads and their businesses without a single piece of time management skills. Sounds scary, am I right?
Don't be scared. A proper lead enrichment tool can help you turn those leads into customers very quickly. Basically, what this tool does is use numerous online data sources to help gather in-depth information about your prospects and the businesses they do; the companies they work for, their aims and achievements, providing you with a full, complete and accurate profile of the person you're aiming to build a connection with.
And do I have any suggestions?
Yes, I do. Here it is.
Lead enrichment tools such as LeadFuze work so well for your need. It's a tool that collects information from thousands of data sources on over 300 million people from over 10 million companies. As a result, it gives you a current and a complete picture of your leads.
And I thought it would be good to share more of these genius sales automation tools in this article. So here are 4 tools that are great choices to practice sales automation with.
6 Tools for Sales Automation
1- Salesflare – great sales platform with user-friendly elements
Salesflare is a great CRM, especially for people who're new to the SaaS business.
It has an intuitive interface with user-friendly elements that can improve your sales and support team's work cycle in an instant.
How so?
By offering several simple yet crucial features that are sure to make a positive impact in managing customer relationships, such as lead scoring.
These features also include the following:
web and email tracking,
lead scoring,
hotness alerts,
visual presentation of your sales funnel,
task suggestions,
custom fields,
live notifications,
insights dashboard,
sales automation, and
1,000+ integrations.
The features above can help you strengthen your relationship with customers while saving you a lot of time with automation in address books, timelines, and file repositories.
Moreover, Salesflare has a mobile app that you can use whenever and wherever.
Keep in mind that Salesflare offers a 30-day free trial if you want to try it out before purchasing it!
2- HubSpot – the #1 Sales Automation CRM
Are you satisfied with the particular sales process within your company? Or let me put it another way, if I asked you to describe it, what specific words would you use?
Exhausting, time-consuming, etc. Or productive, efficient, and fruitful?
Well, if your answer belongs to the first group, don't you worry.
A perfect CRM is here to help you dozens of qualified contacts and close deals productively – it's HubSpot!
HubSpot Sales Hub is the ideal platform that provides sales automation software to nurture qualified leads, explore opportunities, and track your sales flow.
When it comes to scheduling meetings, as I have mentioned before, wasting time without even realizing it is dangerously common. Only in the United States, every day, 11 million meetings are held, can you even imagine the email flows and the time spent writing those emails every day?
This is you don't need an executive assistant to manage meeting schedules for you. Instead, you can benefit from the technology that's integrated right into HubSpot CRM, helping you automate your process. You can easily use a tool like Meetings within HubSpot Sales Hub to share your calendar with a client and enable them to book a time that fits their own schedule.
And don't think I forgot about the power of social media, too. Especially in this decade, a healthy social media presence is essential for any business that wants to support its grounds with online succession.
Almost half of the world's population is at least a part of some form of social media, making it a necessary channel to reach out to new prospects.
And again, it's something that takes effort and time. After all, who has the time to post regularly every day so that the followers are kept up-t-date? Not you, I assume.
With HubSpot, you can also automate your social media updates on platforms such as LinkedIn, Facebook, Twitter, and even on Instagram; you can schedule all of your social media posts in advance and let HubSpot do all the work.
3- Salesforce – Leading Sales Platform
The next sales automation platform to continue is, of course, Salesforce.
Salesforce is one of the most popular sales tools active on the market right now and is widely loved since it provides a large number of integrations and customization options. It also helps you keep track of your sales activities via actionable and highly insightful reports. For faster navigation on the website, you can easily build a "Bookmark Bar" with the help of the customizable dashboard to avoid losing time trying to find what you're looking for. 
And, obviously, I cannot go on without mentioning Salesforce's search feature; it's magnificent, to say the least; it allows users to do searches across the whole CRM database and makes it easier to find what they're looking for instantly.
Salesforce is especially known for the tools it provides:
Tracking of customer info
AI-powered cloud app
Sales funnel creation
Customer support available 24/7
SMS, MMS, and group messaging
Ability to create the personalized customer journey
If you're interested in this sales process automation giant, here's their contact information.
4- Freshsales – best for increasing sales revenue
Freshsales is a great sales automation tool that takes care of manual and repetitive tasks in your stead.
Thus, taking these time-consuming tasks away from your life—thanks to machine learning and artificial intelligence, Freshsales will be your helping hand when it comes to closing more deals. How will it do so?
By providing you with powerful automations, sales sequences, custom workflows, deal insights, and many more that will improve your sales productivity. All of the advantages this platform grants will end up helping you become more efficient, boost customer satisfaction, and always optimize your teams' performance for better results.
With Freshsales as your sales automation tool, you'll be able to do the following:
Attracting quality leads,
driving deals with AI-powered insights,
nurturing customer relationships,
automating the sales process,
forecasting sales via reports,
managing pipelines,
using built-in email, phone, chat, and many more.
5- Calendly – don't you have it yet?
Calendly is an application primarily created for scheduling appointments, events, and meetings. Its aim is to reduce -even eliminate- the irritating and time-consuming back-and-forth while trying to get other work done.
Basically, the platform enables you to simply share your availability with a Calendly link, rather than tons of emails and phone calls, with everybody regardless of whether they use Calendly or not.
Widely used and accepted by more than 50,000 companies and 10 million people across the globe, Calendly has recently started to offer more advanced capabilities for business teams with vital collaboration functions, robust administration controls, and business security.
As a result of its integrations in Zoom, Salesforce, Google, Slack, Microsoft, Zapier, and more, Calendly has managed to become one of the most trusted companies in the world.
To sum up, Calendly greatly focuses on taking the extra work out of your hands via schedule automation so that you can accomplish more! If you're willing to see the difference, you should definitely join the millions of users benefitting from this enjoyable scheduling experience.
6- UserGuiding – for automating tech demos
Recently, it's been widely popular for a SaaS company to create self-serve business modeling with their demos. This wide demand might be resulting from the fact that letting users experience and discover your services on their own, making them feel free to make a move, has been really paying off.
This certain approach saves your teams time, energy, money and it offers ease of use. To make your demo work efficiently, all you need to make sure is that you're creating space for your users where they can communicate with you while paying attention to gathering analytic data.
I know it sounds a little complicated, but let me introduce you to UserGuiding, the platform that can help you achieve all that.
UserGuiding lets you show your users how your product works and what they can achieve through your services.
And since in-person demos come with heavy baggage -they're extremely time-consuming, expensive, and require a high level of expertise- UserGuiding is here to enable you to automate your tech demos and transform them into educational and persuasive motivators that make your clients take action.
With UserGuiding, you can:
Create guides and a checklist to onboard your users and show them how to use the product
Highlight your help articles and resources by showing them in your resource center module, creating ease of use
Promote your webinars by creating banners with ease
Notify your teams when the prospect shows a sign of engagement with your demo
Track individual analytics about how each prospect reacts to the demo
Enable your teams to understand the prospect's interaction with the product
See trends in customer interest and engagement via the collection of analytics
Final Word
When used correctly, sales automation can help you change the way your business operates for the better. Today, I tried to inform you about the first baby steps to sales automation and provided you with some of the best tools out there. I hope you found it helpful. See you next time.
---
Frequently Asked Questions
---
What are sales automation tools?
Sales automation tools are platforms that use software to eliminate the manual process of time-consuming tasks and automate them to enable the sales rep to pay more attention to the greater matters, like closing sales and making money.
---
What should I automate in sales?
Automation in sales can enable you to improve your work performance while saving a lot of time, effort, and money. By automating your sales processes, you can eliminate the practice of manual and repetitive tasks that take forever to complete, this way, you can focus more on building relationships with your prospects and gaining their trust.
---
How does automation work?
Automation works in very simple ways. It's basically the use of software to successfully complete manual and time-consuming tasks that require considerable effort and repetition. With the help of various equipment and control systems such as AI, automation reduces human intervention and creates room for better work performance.